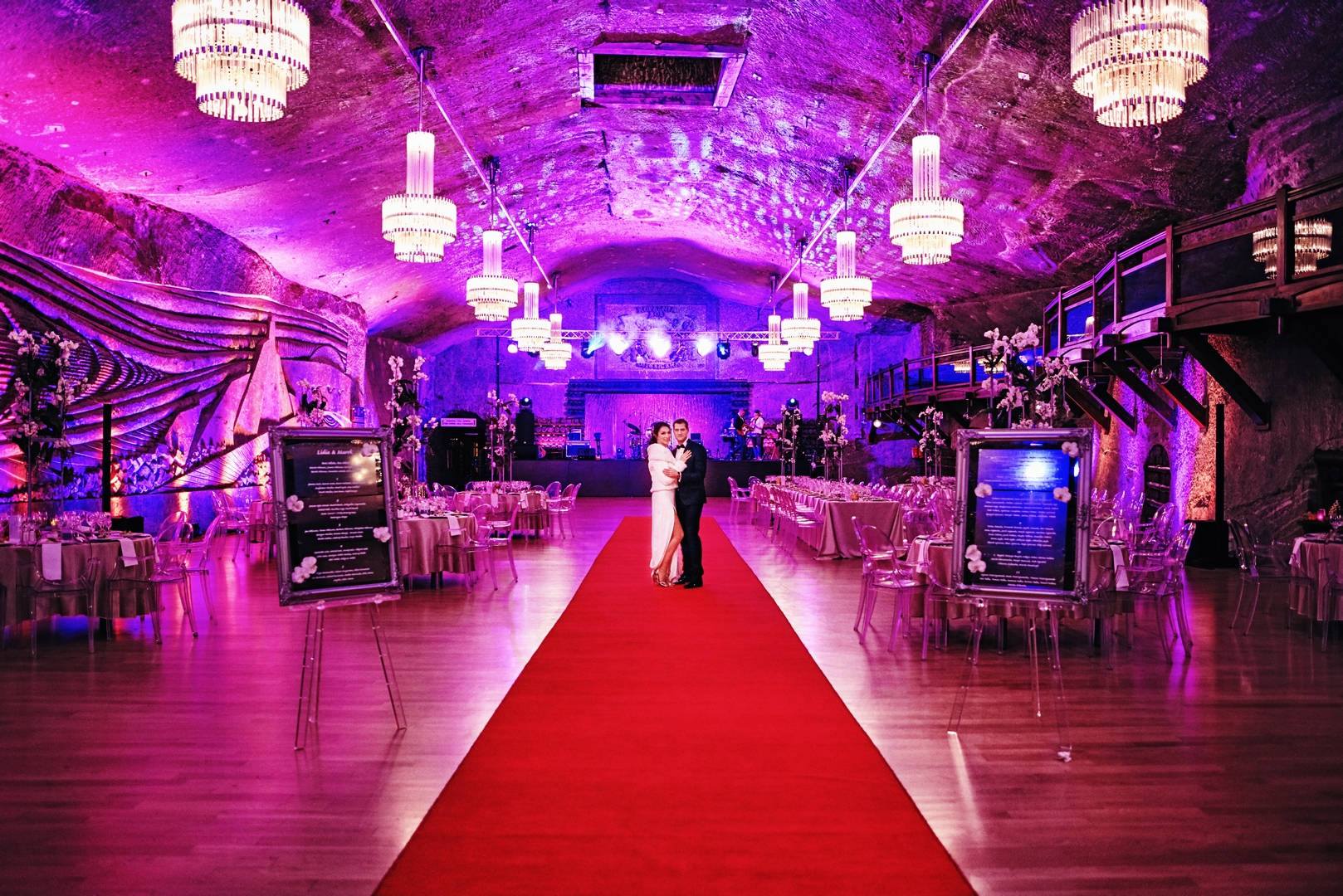 My wedding in Poland
Pronounce your ceremonial "I do" 135 metres below ground level!
The Wieliczka Salt Mine is a pearl amongst the most beautiful sites in Poland. Situated only 24 km from the famous Old Market Square in Kraków, it is a must-visit place on the tourists' map from all over the world.
The Mine's perfect location is also distinctive – it is situated only 26 km from the Kraków-Balice international airport. Wieliczka boasts extensive accommodation facilities, with Grand Sal Hotel, just a few steps away from the mine itself, topping the list.
The Salt Mine is an exceptional venue for your dream wedding. There are 7 chambers here, ideal to hold a civil or Protestant wedding ceremony, and throw a lavish wedding reception. In two chapels it is also possible to organise a Catholic Church wedding.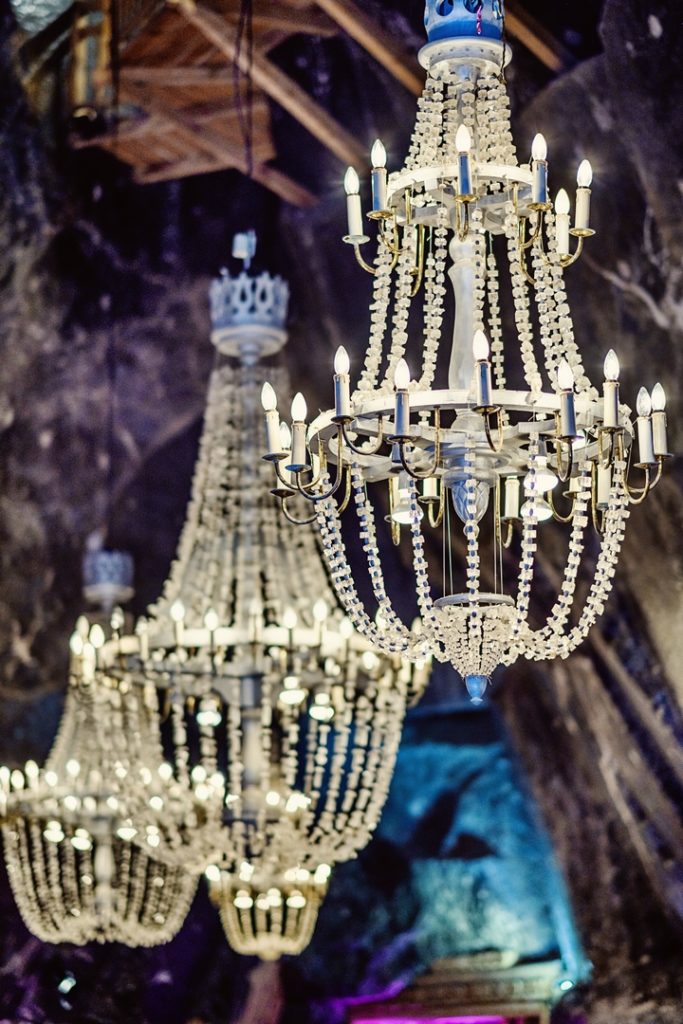 WEDDING PACKAGE
Registration fees for wedding ceremony at the Wieliczka Salt Mine

An English-speaking wedding consultant's assistance with gathering all necessary documents

Translation of documents necessary to be able to be joined in marriage from English to
Polish (if any of the parties had been divorced, an extra fee of €80 for each document shall be payable)
Interpretation during the ceremony (by a sworn translator of English)

Interpretation during a meeting at the Registry Office / church authorities office (between 91 and 30 days before the wedding date)

Check with local officials / church authorities for the documents' correctness

Reservation of the wedding ceremony and reception date

A pre-wedding meeting, when detailed tenor of the wedding day and reception is discussed and mapped out (the meeting can be held in Kraków or Wieliczka)

Provision of witnesses – if necessary

Certificate of Marriage
Price: PLN 3500
+ Obligatory fees : PLN 1000
A fee for the appearance of Registrar of Marriages / Priest at the place of ceremony
[mkdf_section_title position="" title_tag="" disable_break_words="no" title="Chambers, where we can organise a civil / Protestant wedding ceremony"]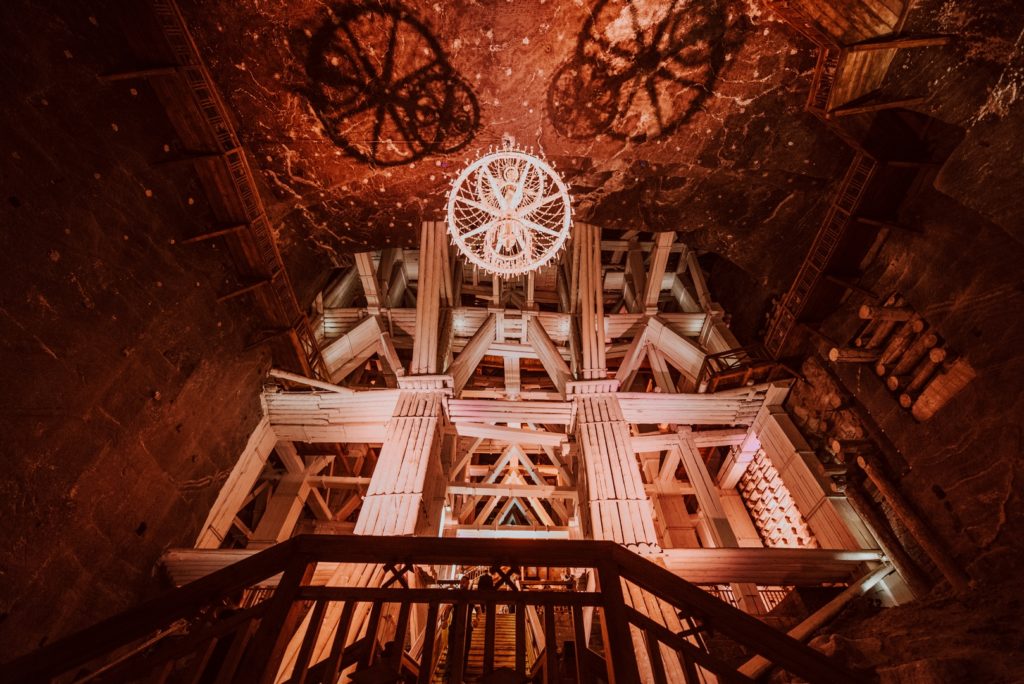 Michałowice Chamber – located 109 metres underground, with intricate design of huge timber, creates breathtaking space. It is a chamber most often chosen by newly married couples. It is one of those places which stay in your memory for long.
Price of hire: PLN 1200 per 1 hour (net price)
Drozdowice Chamber – located 110 metres underground. It owes its unique character to the impressive design of white timber logs combined with a dark shade of the salt walls. Due to the chamber's spaciousness it is a prefect venue for banquets and functions attended by large numbers of guests.
Price of hire: PLN per 1 hour (net price)
Haluszka I Chamber – is excluded from tourist flow, and is a prefect spot for a wedding reception for up to 100 guests.
Price of hire: up to 2 hours: PLN 2,500. Each subsequent hour: PLN 1,000(net price)
Haluszka II Chamber – is the smallest of the chambers where we organise wedding receptions. It is ideal for private receptions in the inner circle of closest family.
Price of hire: up to 2 hours: PLN 1,300. Each subsequent hour: PLN 600 (net price)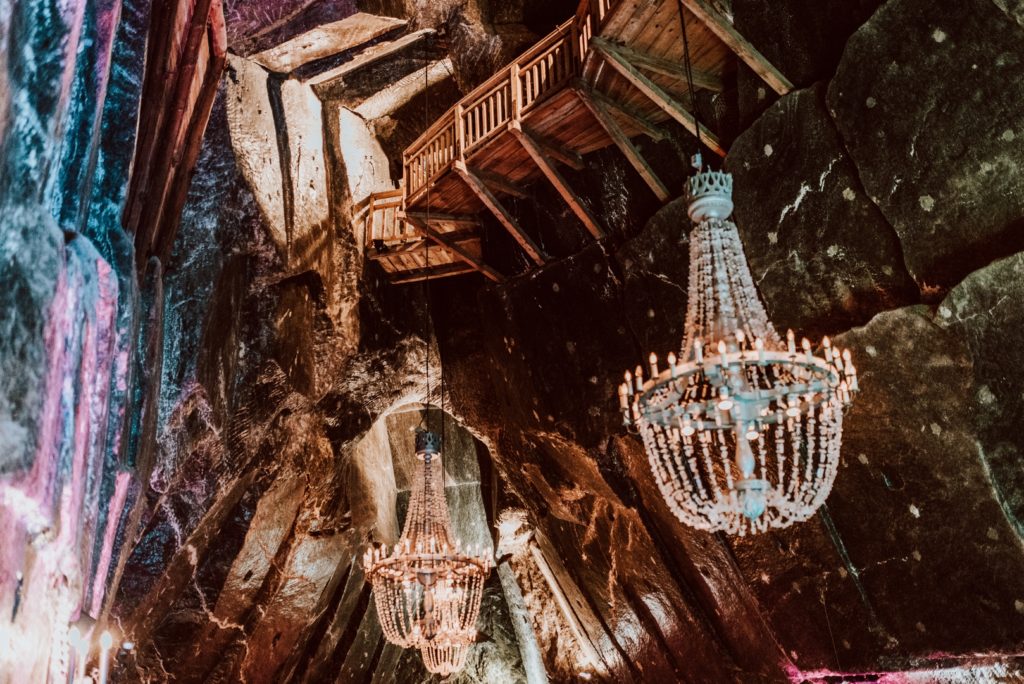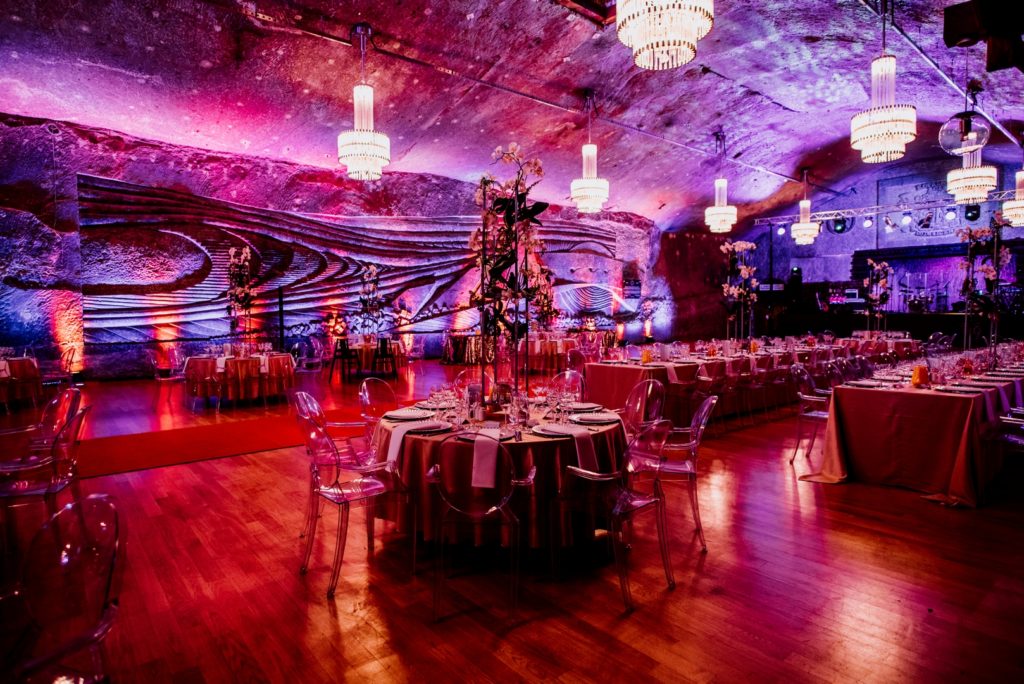 Warszawa Chamber – an impressive chamber being a great combination of nature and architecture. Ideal for large wedding receptions for up to 300 guests.
Wedding reception for up to 250 guests – up to 2 hours: PLN 4,800. Each subsequent hour: PLN 1,800.
Wedding reception for more than 250 guests – up to 2 hours: PLN 6,600.
Chapels where Catholic Church weddings can be organised:
The Chapel of St. Kinga – the most magnificent creation at the Wieliczka Salt Mine. Crystal chandeliers, intricately carved floor, breathtaking bas-reliefs and altars guarantee unforgettable artistic experience. A wedding at the Chapel of St. Kinga will stay in the Happy Couple and their guests' memory long after it's over.
Price of hire:
1 hour, with reception in the mine – PLN 2,600

1 hour, without reception in the mine – PLN 5,200  (net price)
The Chapel of St. John – a tiny shrine with beautiful, wooden decorations. It is ideal for an intimate wedding for up to 40 guests.
Price of hire: 1 hour – PLN 1,200 (net price)
Menu:
There are many options to match the menu to the wedding reception's nature, both in the form of smorgasbord and sitting dinner.
A sample menu:
Aperitif

Appetiser

Soup

Main dish

Dessert

Cold buffet

Hot buffet

Cake

Alcohol-free beverages